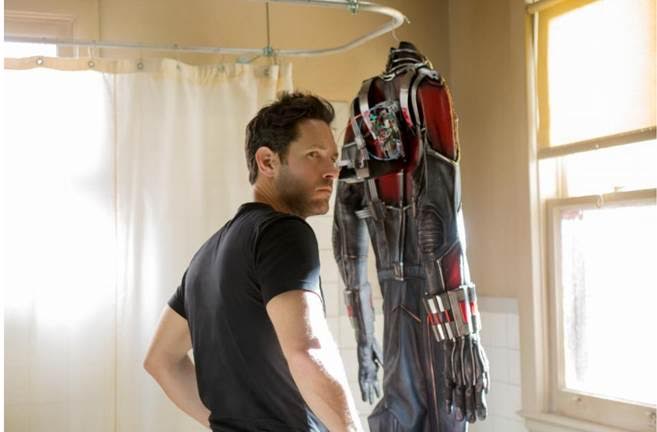 Disclosure: I was sent the Ant-Man on 3D Blu-ray to facilitate my review. The views expressed in this post are my own. Affiliate links are included in this post.
If you follow my blog, you know that the Musings from Me Family LOVES Marvel. With a tween and two teens, finding a movie that we all want to see is a challenge. Once my youngest was ready for live action movies, we jumped at the chance to watch movies as a family. Our top pick for a movie to watch at Family Movie Night are the Marvel movies. These live action movies are packed with action and adventure.
The Newest Avenger Is Ant-Man
I must admit that I had never heard of Ant-Man until recently. I didn't read Marvel comics as a kid. I knew Spider Man through TV, but didn't realize that he was part of the Marvel family. To be honest, I didn't know anything about the Marvel franchise of super heroes until the original Fantastic Four was released in 1994.
My Marvel education has been acquired entirely through watching the Marvel movies. All. The. Movies. From Iron Man to Thor to Captain America to the Incredible Hulk, I have immersed myself in the Marvel Universe. Oh, I'm no expert. I ask ALL the questions when we watch movies. My family is of the "Shhh…let's watch the movie" variety, so I try to save my questions for popcorn breaks. But sometimes I can't help myself from asking questions.
A few weeks ago, we sat down to watch Marvel's Ant-Man for Family Movie Night. My daughter was home from college for Thanksgiving Break. She was so excited to watch that she insisted that we have a Family Movie Night while she was home. And we did.
Pizza bagels, soda, chips, and cookies were the perfect addition to our Family Movie Night viewing of Marvel's Ant-Man. Though Marvel's Ant-Man is one of the original Avengers, he is new for most of us. Like the other Marvel movies, Ant-Man's story is introduced gradually. We learn that Scott Lang — played by Paul Rudd — has recently been released from prison. He is broke, unemployed, and desperate to turn over a new leaf.
Soon Scott Lang's path to a better life collides with Dr. Hank Pym. Dr. Pym — played by Michael Douglas — is the inventor of the Ant-man suit, a secret he has kept from his colleagues for years. Pym needs Lang to join forces with him to protect the secret Ant-Man suit.
Paul Rudd is amazing in Marvel's Ant-Man. I had my doubts that he could pull it off as I know Rudd mostly from romantic comedies, but his performance was amazing. I can't wait to see Rudd join the rest of the Avengers for more adventures!
Marvel's Ant-Man is available in 3D Blu-ray Combo Pack, Blu-ray, DVD, Digital SD, and On Demand.
Marvel's Ant-Man stars Paul Rudd, Evangeline Lilly, Corey Stoll, Bobby Carnavale, Michael Pena, Judy Greer, and Michael Douglas.
The 3D Blu-ray Combo Pack features several short films: Making Of An An-Sized Heist: A How-To Guide, Let's Go To The Macroverse, and much more.