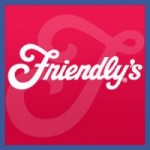 Mmmmm tuna sandwich melt. Mmmmm ice cream sundae. I have fond memories of lunches at Friendly's while pregnant with my first. Back then I was on an eating out kick for lunch. Chinese was too strong. Mexican too spicy. Pizza too blah. But Friendly's was the place that hit the spot. Mmmmm
Several weeks ago I was contacted about a new Friendly's promotion…Sprinkle Vision. Sprinkle Vision? I wondered what it was? The pair of 3-D glasses was intriguing.
On a recent trip we arrived late at our destination — Rehoboth Beach, DE. We needed to get to hotel after a bumper-to-bumper ride, but were still a little hungry after only eating fast food on the journey. I know, I know, I lobbied for and was rebuffed in my attempt to have Subway for dinner. Harrumph. Dessert at Friendly's sounded like a great idea for all of us.
Once seated at Friendly's the waiter brought us a selection of menus. One was the kids' menu. I noticed the words Sprinkle Vision. The kids grabbed the 3-D glasses and started looking at the menu for codes and information. My husband and were actually able to have a conversation while the kids were occupied. Score!
From the Friendly's press release…Throughout 2009, excited ice cream-loving kids who visit Friendly's will be able to search the restaurants for hidden codes to use in an online game to win fantastic prizes and try their luck at taking over the Friendly's virtual ice cream factory.

Each child guest will receive a pair of Sprinkle-Vision glasses with red lenses that will allow them to view the codes hidden throughout Friendly's restaurant locations. Kids can write down the codes at the store and when they get home, with the help of parents, visit www.IWannaGoToFriendlys.com to gain access to Friendly's virtual ice cream factory. Once inside, kids will be challenged to navigate through multiple levels, and play a series of puzzles and games in order to win real-life prizes.

The lucky grand-prize winner will get the chance to participate in an upcoming Friendly's kids commercial, and will receive free ice cream for a year. Three prize winners will receive a tour of the real Friendly's ice cream factory, and 27 winners will win free ice cream for a year.

Check http://www.friendlys.com/ for a location near you!