My oldest daughter attended a preschool that I thought was O.K. Adequate for her needs at the time, but not exceptional. In my area it was hard to find a part-time preschool for a 2-year-old. I had limited options. A change in director, a teacher change or two or three, and a odd choice of behavior management (kids were told to lie on floor with hands over their eyes…have you ever heard of anything like that??) signalled that I needed to find a new preschool that better suited our needs.
I consider myself fortunate that I found Goddard — a good match for my daughter's strong academics, love of learning, but also for her teacher who "got" her somewhat quirky outlook on life. She once wore a one-piece swim suit to preschool underneath a turtleneck, a dress, underwear, and pantyhose. Naturally, she was caught short when she needed to use the bathroom. My daughter couldn't understand why I was mad at her?! She said "But, I wanted to wear a swim suit!"
I was invited to the Child's Play PR #bloggersbrunch in New York City. I took the train in — I need to post about my bad start to the day…it's a good one — and listened to successful mommybloggers and writers, met brand representatives from Goddard School, Gatorland, Nickelodeon, Good Housekeeping, Joy Berry Books, and others, and socialized with some of the nicest bloggers — Mariana, my travel buddy; Amy, Linda, Nicole, and Stacie, and many others. Fun event but way too short! Oh, and we were given a behind-the-scenes tour of the Good Housekeeping testing labs. Fascinating!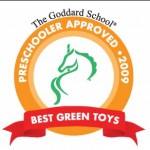 When the grand prize winners were announced, you can imagine how surprised I was to win the Eco-Friendly Toy Pack from none other than the Goddard School! My kids loved the Hugg-A-Planet — a soft, educational toy, that helps children learn about caring for planet Earth. It features over 600 places labeled, showing oceans, continents, islands and more.
A few of the toys are too young for my children, so I am doing a giveaway! See end of post for details!
Eco-friendly doesn't have to be expensive this holiday season! While parents recognize that "green" toys are great for the environment and a positive experience for children, cost has sometimes been an issue. Goddard Systems, Inc., named the number one child care franchise company for the eighth year in a row by Entrepreneur magazine, announced 2009's Hottest Eco-Friendly Toys under $30.
The foundation of the Goddard Schools curriculum is learning through play. It is with this focus that the Goddard Schools partnered with Eco Child's Play, a leading "green" blog, for the schools' second annual Top Toys Test.
After a national call for submissions, the Toy Test Committee, consisting of Eco Child's Play representatives and Goddard educators, evaluated entrants based on a number of criteria, including:
Affordable price range ($30 and under)
Appropriate for preschoolers and early elementary school-age children
Creative, social or engaging
Eco-friendly
Interactive, child-initiated play focus
The Top Eco-Friendly Toys (I apologize for the lack of images…I wanted to post immediately!)
Joobles Collection (Fair Indigo, Ages 0 and up, Approximate Retail Price: $25)
Organically adorable, the Joobles Collection features a variety of eco-friendly, fair trade characters. Made out of 100% organic cotton, these soft and squishy characters are hand knit! Children of cooperative workers are helped by the Fair Indigo Foundation, which provides educational programs and supplies.
Ring a Thing (HABA, Ages 1-3, Approximate Retail Price: $24.00)
Ring a Thing transitions children from free play to first games with rules. It's also a fun way for children to recognize colors and sizes. For 1-3 players, Ring a Thing is made of beech wood. HABA products have passed certification that guarantees a high quality environmental management system.
Count Octopus (ImagiPLAY, Ages 3 and up, Approximate Retail Price: $17.99)
Learning to count is fun with this Octopus Number puzzle. Hand-crafted & hand painted with child-safe paints. Count Octopus is made from plantation-grown rubberwood, an environmentally-friendly hardwood.
Green Toys Recycling Truck (Green Toys Inc., Ages 3 and up, Approximate Retail Price: $24.95)
Now little ones can learn all about the basics of recycling. Made in the USA from 100% recycled milk containers, the Green Toys Recycling Truck sorts bottles, cans and paper. It also has a movable recycling bed and open/shut rear door. It is safe, non-toxic, BPA-Free and packaged in recycled and recyclable materials.
Green Toys Tea Set (Green Toys, Inc., Ages 3 and up, Approximate Retail Price: $24.95)
Pull up a chair; it's time to serve up some eco-friendly imagination! The 17-piece Green Toys Tea Set includes a tea pot with lid, a sugar bowl with lid, a creamer, four cups, four saucers and four teaspoons. It is made from curbside collected milk containers and also meets FDA specs for food contact.
Veggie Cutting Set (ImagiPLAY, Ages 2 and up, Approximate Retail Price: $24.99)
Help kids learn about healthy eating with the Veggie Cutting Set from ImagiPLAY. This vegetable set helps children develop motor skills and coordination while encouraging them to learn about healthy food in a fun role play environment. Segmented and secured with Velcro, for cutting over and over again, segments can be combined to create entirely new vegetables! This 16-piece activity toy is made from all-natural, earth friendly rubberwood.
About Goddard Systems, Inc. www.goddardschool.com
Recently named #1 Childcare Franchise in the United States, by Entrepreneur magazine, for the eighth consecutive year (January 2009) and one of the Top 200 Franchise Systems (in worldwide sales), by Franchise Times, for the second consecutive year (October 2008); Goddard Systems, Inc. (GSI) is expanding The Goddard School® network throughout the United States. Headquartered in King of Prussia, Pennsylvania, GSI currently licenses 340+ franchised schools with more than 40,000 students in 37 states. With a successful system in place and dedicated franchisees, GSI is the acknowledged leader in franchised childcare and a premier childcare provider in the United States
About Eco Child's Play, http://ecochildsplay.com/
Eco Child's Play (ECP) is a blog devoted to informing and discussing "Green Parenting for Non-toxic, Healthy Homes". ECP began in 2006 as site devoted to natural toys, and has since expanded to include broader issues related to green family life.
Here's how it will work. Leave a comment with the name of the toy that you want to win. You can leave a comment for every toy! Extra entry: tweet this giveaway for each toy that you want to get. So, you will have up to two chances to win each toy! One comment = one entry. Enter now.
– Leave a comment on which toy you want to win.
– Tweet this giveaway: @MusingsfromMe is giving away 6 of the Top 10 Eco-Friendly Toys under $30 chosen by Goddard School students! Enter now! http://tinyurl.com/ygsj53a
I won the Grand Prize Pack from Goddard School. Giveaway is open to U.S. residents only. Ends December 16 at 11:59 p.m.