I think of my laundry room as my little corner of the house. Yes, it is the smallest room in the house. Yes, it is piled high with clean laundry, dirty laundry, clothes that don't fit, clothes that need mending, clothes for AmVets/Purple Heart, clothes for consignment, and the obligatory pile of stuff-that-does-not-have-a-home-but-has-not-been-thrown-in-the-trash-yet. But, it is my domain. Piles or not…I know where everything is.
My only requirement for the room is…a detergent that works. I am not a person who uses only one type of product for any household task. I have tried, tested, and discarded a few. I'm picky. A detergent's effectiveness on stains is of paramount importance to me. I'm not called "Messy Mommy" for nothing!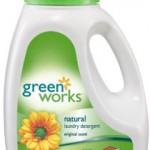 I use detergents that are good at fighting stains. I was given Green Works Laundry Detergent and Green Works Stain Remover to try. Huge thumbs up from me on both. I was able to tackle the followinh stains…muddy soccer socks, grimy volleyball knee pads, certain shirts from a Mommy who shall remain nameless, etc. GreenWorks worked!
The ever-expanding line of natural household products, brought to moms everywhere by the makers of GreenWorks, now covers not just the bathroom and kitchen, but the laundry room. With its efforts, Green Works continually makes it simple for Moms to incorporate green living into their households. The Green Works Natural Laundry Detergent and Stain Remover upholds the same high-performance standard as other cleaners from the Green Works line. Moms take care that chemicals don't find their way into our kids' hands, food, and toys, we don't want harsh chemicals on their clothes either. We can feel assured that the dermatologist-tested detergent and stain remover will go gentle on the skin, while still fighting stains.
I wrote this review while participating in a blog tour campaign by MomCentral on behalf of Clorox Green Works and received a bottle of Green Works Natural Detergent and Stain Remover to facilitate my review and a $20 thank-you gift certificate.