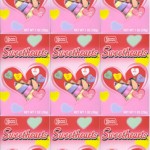 Is there anything more Valentine's Day-y than Sweethearts? I'm not sure my children have brought home a Valentine's bag that did not contain a box of Sweethearts.
As a mom my hand might gravitate towards a Reese's Peanut Butter cup or a Hershey's bar. What? You've never grabbed a quick treat from your child's Valentine's paper bag? My hand grabs a candy once too often, which is why I am constantly in need of losing weight. But, I digress… My children love Sweethearts.
You know the best part about Sweethearts…is reading all the phrases on the Sweethearts. You know the ones….
Go girl
Call me
Text me
I love you
Sweet love
and
Hot Stuff
Recently Sweethearts held a contest "Our Hearts, Your Words" where fans made suggestions for new sayings for Sweethearts. I'm looking forward to Valentine's Day 2010 to see what new sayings were added by fans!
Necco Sweethearts has been a Valentine's staple for a whopping 145 years. To follow Sweethearts:
On twitter — @My_Sweethearts
On Facebook — http://www.facebook.com/pages/SweetheartsR/30413479292?ref=mf
On the web — http://mysweethearts.com/