As many of you know, I have a preteen and a teen. Preteens and teens love to be connected to their friends. Chatting at lunch. Socializing on the school bus. Texting on cell phones. And on the computer or lapop. As a mom of a preteen and teen, I can handle my daughters checking e-mail or researching a topic online for a school project, but I get slightly rattled by the idea of who they might "meet" online. As an adult I know who to "friend" and who not to friend, but my kids may not. Scary!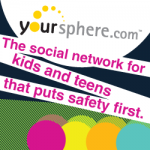 About a year ago, I saw an ad for a brand new social network site for kids and teens: Yoursphere.com. I had to check it out. A year later, I'm now the mom of a teen who is a member of the Yoursphere community AND a writer for Yoursphere AND was interviewed by a local TV station!
Yoursphere.com is the social network for kids and teens that puts safety first and provides a positive and age appropriate alternative to Facebook, Myspace, and other sites created by adults for adults. Yoursphere was founded by a mom of 5 who was concerned about her children's safety on the internet. Yoursphere is a social network for kids and teens, which unlike other sites offers:
Identity verification, predator check, and requires verifiable parental consent
Limits participation to kids and teens through age 18. (Kids can be members until they turn 19.)
All content is created by kids and teens for kids and teens. No worries about adult content.
There are no ads on Yoursphere. The membership fee — a dime a day – is used to support Yoursphere's safety measures and to provide activities, prizes, and rewards for each and every member.
Offers scholarships and supports youth-selected philanthropies: 3% of each membership fee is pooled into a scholarship program.
Yoursphere would make a cost-effective last minute Christmas/ holiday gift.
Teens such as those from www.RadicalParenting.com (parenting from the kids perspective), who reviewed Yoursphere: The Best Virtual World For Your Kids believe kids will love a Yoursphere membership because:
Kids and teens enjoy at Yoursphere: privacy, building friendships, creating and uploading content, joining groups or creating their own, writing stories, uploading pictures, entering contests, showcasing their creativity, earning rewards…even scholarships, plus members get to support the causes they care about! In addition, the credits members earn just for participating on the site can be redeemed for rewards like a shopping spree, ipod, movie tickets, iphone, their favorite DVD's, games like Guitar Hero and more!
Yoursphere is a totally different story than any other social network site our teens have reviewed. As soon as you log on, whether you are a parent or kid you will see that this site has amazing graphics, videos and safety–an essential combination for kids online. We loved it because it takes the best activities, videos and games and puts them in one place where you do not have to worry about spam, creepsters or uncool entertainment. Awesome.
Giveaway for Musings from Me Readers! Would you like to win a 1-year FREE Membership for your child? One comment = one entry. Enter now!
– What is your biggest fear about the online safety of your children? I worry that my child will befriend someone who they think is their age, but in actuality is an adult. I am so glad that my kids have Yoursphere!
– Follow the Mom who founded Yoursphere on Twitter!
– Follow Yoursphere on Twitter!
– Tweet this giveaway: @MusingsfromMe @MaryKayHoal are giving away a FREE year's membership to @Yoursphere! http://tinyurl.com/yan9umj! #yoursphere
– Subscribe to this blog via reader.
– Subscribe to this blog via e-mail.
– Follow me on Twitter.
– Fan me on Facebook.
I was given a Yoursphere.com 1-year membership for both of my children. This post is part of a blog tour I am coordinating for Yoursphere.com. This giveaway is open to U.S. residents only. Giveaway ends December 24 at 11:59 p.m.