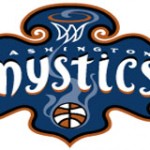 At 5'3″ I'm not what you would call basketball material. In school in England we played a version of basketball called netball. Anyone ever played? You pass the ball to each other, shoot in to a low basket, but don't bounce. When I played the game each player wore a yellow vest with the position on it — GD = Goal Defender? In case we forgot our positions?
So long ago I don't remember. Here's the wikipedia entry: Netball
While I may not be a sports player…I am a sports watcher. I love taking my kids to sports game. Something about the look on a child's face when he sees a player doing something that he does at t-ball or soccer or basketball.
Locally we've watched baseball: Frederick_Keys — Class A Affiliate of the Baltimore Orioles and Orioles. But, what about basketball. Years ago my husband and I saw the Washington Bullets who are now called the Washington Wizards. But that was pre-kids. I'd love to take my kids to a basketball game.
I found a deal that just might allow our family to go to see a WNBA game. Our local team is the Washington Mystics. Go to: TicketMaster.com/wnba and enter the promo code WNBABLOG and experience what exciting, affordable, family-friendly entertainment the WNBA really is!
Local MD/DC/VA people, you can get $35 tickets for $15 —> Mystics.
Check it out! If you go to a Mystics game, leave a comment for me.