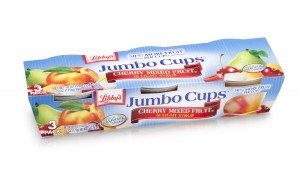 The cherry was a topic for discussion after my oldest tried the Libby's 6-ounce Jumbo Cups. You remember the cherry don't you? I don't mean a maraschino cherry from the top of an ice cream sundae. That was far too sickly sweet. No, I mean the cherry found in cans of fruit cocktail. But, lately the cherry seems to have disappeared…until now.
The cherry is back in the Libby's 6-ounce Cherry Mixed Fruit Jumbo Cup. According to my oldest it was delish. I wondered about this as I have had other brands of fruit cups in the pantry largely untouched by any hands in this house. I tried the Diced Pears to see what she was talking about.
Oh my, the Diced Pears are absolutely delish. I was glad to have the jumbo cup size as I wanted more than an average fruit cup serving. It was sweet, but not sickly sweet. The pears were moist, but not mushy. The size of the pears was just right. Often in fruit cups, the fruit is cut in to such small pieces that you have to use the color to guess the type of fruit. No question that this was pear.
I tried the Diced Peaches and the Mixed Fruit — both were extremely good. These fruit-cups offer 50 percent more fruit than the 4-ounce cups currently found on the market. The cups are also deep enough that no juice spills over the rim.
Libby's sent me a sample pack to try. Would you like to win a sample pack of Libby's? If so, leave a comment below:
– With back-to-school in the not-too-distant future, what was your favorite school lunch food? I remember taking a small can of fruit for lunch when I was in elementary school. I always hoped for the chocolate pudding, but more often than not got the fruit cocktail. The cherry made me forget the chocolate pudding.
– Follow me on twitter @musingsfromme. Leave an entry.
– Tweet this giveaway and leave a comment: For a sweet summer tweet that is healthy, enter giveaway @musingsfromme: http://tinyurl.com/Libby-s
– Subscribe to this blog via reader. See right-hand column. Leave an entry.
– Subscribe to this blog via e-mail. See right-hand column. Leave an entry.
Thank you to Libby's for providing a sampler pack for me to review. Contest is open to U.S. and Canadian residents only. All entries are due by August 21 at 11:59 p.m.