I know you will agree when I say that mayonaisse-y dishes at backyard barbecues and even indoor gatherings have a shelf life of maybe an hour or two. Once the mayonaisse-y dish has been on the table for more than 2 hour I start to wonder about the freshness of the dish. But, how do you keep a dish fresh?
Do you remember the episode of the Simpsons where Marge asks Homer why he is eating a sandwich that is turning green? Hold on a moment, I'll be right back… Just back from a fruitless YouTube search for the episode where Homer's sandwich turns green and grows mushrooms. Ewwww.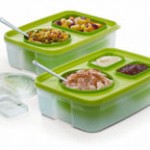 The solution — my friends — is the Chill Out & About®. The Chill Out and About® stay-cool food serving and storage system is an elegant solution to the everyday entertaining dilemma of keeping food fresh. It keeps food fresh for hours at parties or picnics, at home or on the go.
Just fill the base with water and freeze, or for last minute get-togethers, add a mix of ice cubes and water. The interchangeable system lets you choose the perfect container combination to serve salads, hors d'oeuvres, dips, dressings, desserts, and more and keeps them cool and delicious for hours. The serving containers nest in ice, while the main tray lid protects the ice from dripping food and the serving containers from becoming unstable. In addition, the attractive design works with all decors and makes for a beautiful presentation. Finally, when the party is over, you can simply pop out the serving containers, snap on the lids, and store them in the fridge or freezer without using any additional dishes. Clean up is a snap!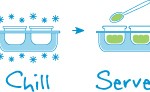 I was dazzled by the stacks for Chill Out & About® on display at the @MetroCooking show in D.C. I had to have one! I used it over Thanksgiving. I served dip in the trays. Everything stayed fresh for hours.
The folks at the Sundance Company are allowing me to give a Chill Out & About® to a lucky Musings from Me reader…just in time for the holidays! One comment = one entry.
– Tell me about your favorite dish at the holidays.
– Subscribe to this blog via reader.
– Subscribe to this blog via e-mail.
– Follow me on twitter @musingsfromme.
– Tweet this giveaway: @MusingsfromMe is giving away a Chill Out & About® to a lucky reader! Enter now: http://tinyurl.com/yfmr3qu!
– Fan me on Facebook.
Sundance Company provided me with a Chill Out & About®. This giveaway is open to U.S. residents only. Giveaway ends December 7 at 11:59 p.m.