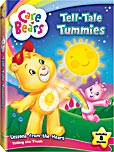 Care Bears have always been a favorite in our house. I was excited to receive the Care Bears Tell-Tale Tummies to review. We have a cute set of assorted Care Bears…St. Patrick's Day, USA Flag, etc. I smile when I see one of the Care bears peeking out of the toy box.
From the press release... Tummies will tickle with excitement as Lionsgate presents the new Care Bears DVD, Care Bears: Tell-Tale Tummies
with eight never-before-released episodes from the all–new Saturday morning CBS TV series. Come along with the Care Bears™ for more friendship-filled adventures among the clouds and rainbows of Care-a-lot!

Care Bears: Tell-Tale Tummies includes themes of emotional intelligence that help kids develop and are mom-friendly. The new DVD release teaches kids valuable lessons about honesty, integrity and telling the truth.
Episodes include "The Tell-Tale Tummy," "Oopsy, the Hero," "Bumbleberry Jammed," "Desperately Seeking Mr. Beaks," "King of the Gobblebugs," "Bad News," "Tour De Farce" and "No-Snow Day."

The fun new lenticular package features magical tummy transformations on Care Bears favorites Funshine Bear and Cheer Bear.

The DVD also features Kid Friendly Direct-Play, which allows children to play the DVD without the assistance of a parent. Care Bears: Tell-Tale Tummies will be available for the suggested retail price of $14.98.
The all-new Care Bears television series airs on Saturday mornings on CBS as a top 5 rated show on US network TV on Saturday mornings, and currently enjoys 98% awareness among moms of girls aged 2-5 (Fall 2007 Q-scores). A beloved brand since the 1980's, Care Bears continues to be one of the most recognizable and top preschool properties in existence (according to Lieberman Consumer Research January 2006).
GIVEAWAY: I'm giving away one copy of Care Bears Tell-Tale Tummies. Leave a comment to enter. You can enter multiple times. Giveaway ends November 9 at 11:59 p.m.
– Tell me your favorite kiddie DVD. My favorite is The Snowman.
– Subscribe to this blog via reader.
– Subscribe to this blog via e-mail.
– Follow me on twitter @MusingsfromMe .
– Fan my Facebook.
Thank you to Lionsgate Entertainment for providing a review copy. Interested in your own copy, click here.