On the boat ride on Lake Minnetonka, I found myself talking to Julie. She was not a blogger. Not a PR person. Not a General Mills employee. This person was — the graphic reporter. I did a double take. What did she mean by that graphic reporter I wondered? Was she like a court reporter? Would she draw pictures of us as we cooked in the General Mills kitchen? I wasn't sure, but I wanted to learn more about her.
Julie P. (I'm sorry to say I don't recall her last name) was just lovely. She explained that she would record what we did the next day in a graphic way — you know get the flavor (pun intended) of what we were involved in doing. I still wasn't quite sure, but looked forward to the next day.
Day #2 of #tabletalk dawned early. We were ushered by bus to General Mills HQ. The campus is massive — we saw only one small part. I noticed quite a few sculptures outside the building. Who could not love that the campus is on Betty Crocker Drive!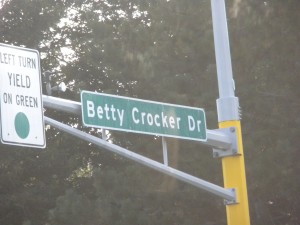 Once we checked in, we were escorted past the display cabinets showing the progression of General Mills products from Cadwallader Washburn flour through present day products like Wheaties, Cheerios, and Progresso Soup.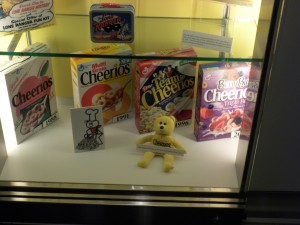 I saw a box of my beloved Team Cheerios. I last ate Team Cheerios in 1997. So superior to Multigrain Cheerios, IMHO. I made a plea to the General Mills archivist: "Bring back Team Cheerios!"
On to the General Mills Test Kitchens — where I found Julia again. This time she was standing in front of a huge easel drawing the General Mills logo. I was intrigued to see what else she would draw.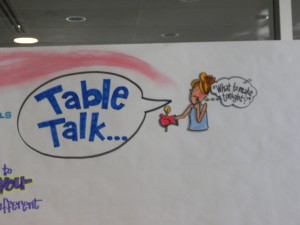 She proceeded to draw, sketch, and record our comments on two easels as we participated in discussions and cooked our meals.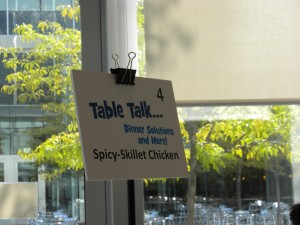 I was in Group #4 for the cooking part of #tabletalk. We cooked Spicy Skillet Chicken — very delish. Each group sampled their own dish. While we were cooking, the Test Kitchen staff were preparing samples of the dishes created by all six groups. We had a "cooking show" type demonstration where our group explained the recipe, the cooking process, what we liked and disliked, and our overall impressions of the dish.
After sampling some yummy new products — post to follow — we were escorted to the inhouse General Mills company store. My carry-on wouldn't hold a box of Cheerios, but I did find a tiny space for some Cheerios pens and lip glosses. The kids were thrilled.